Start your blog with Ucraft
Share your expertise and grow your audience with Ucraft built-in blogging tools. Over 80 ready-made templates to win over your readers.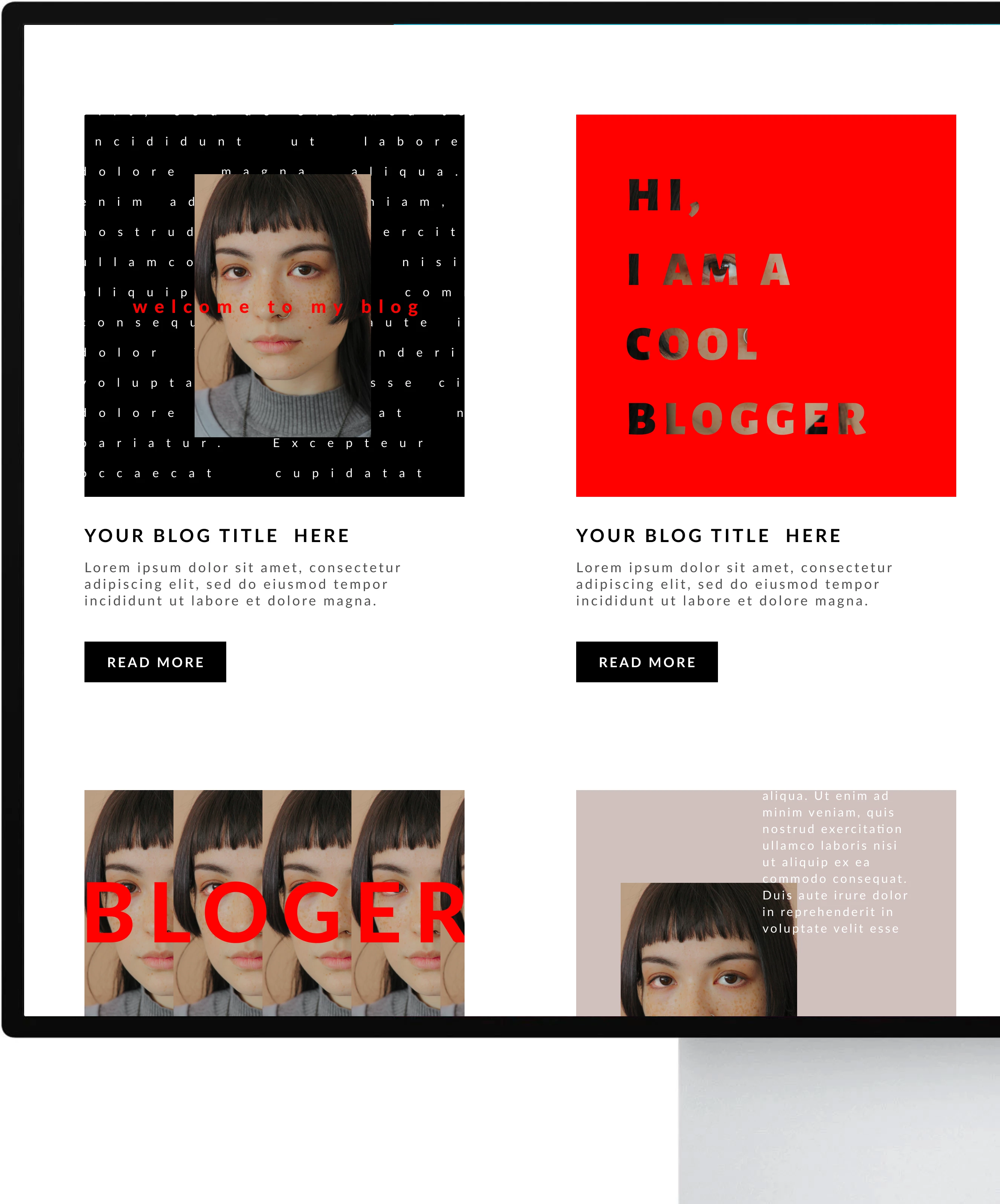 How to start a blog with Ucraft
Share your passion with the world and gain the trust of your readers with Ucraft free blogging platform.
Sign up for Ucraft and set up in minutes. Use Articles app to smoothly add and manage all your posts from your dashboard.
Write something you care about and load it up with visuals. Stand out with the smart choice of typography, layout and style. 
Add keywords and social images to increase organic traffic and optimize your blog content.
Build trust and become an influencer in your industry with quality articles and how-tos.
Convert your readers into potential customers using a form or subscription element.
Keep your customer base engaged by providing product updates on a regular basis.
Make your blog posts go viral with Ucraft drag and drop blogging platform. 
Add a custom feed to your website using RSS. Display news from an external source to keep your content fresh and up-to-date.
Drive traffic to your blog by optimizing each post individually: from titles and descriptions to social images and aliases.
Use categories and tags to organize your blog posts. Add categories and manage your content with a click of a button.
Real time comments made easy with Disqus. Foster discussions and increase engagement in a meaningful way.
If you're new to Ucraft, this guide answers common questions on how to get started.
Why having a blog is important?
Running a blog is a nice way of driving more traffic, educating them about your product or service or simply sharing your thoughts with the world.
You can write about anything: traveling, fashion, lifestyle, health, fitness to elevate your blog.
How can I make my blog successful?
First and foremost, drive more traffic to your website. Writing quality content for your blog or publishing relevant news will not only attract more visitors, but let them become your target audience. Other than that, our free blog creator is a platform where you can share your brand message and establish online authority.
Can I make money from blogging?
Yes, you can! There is more than one way to monetize a successful blog. The most popular option is to build a sizable following and try to profit from AdSense or another advertising platform.
The other approach is an indirect one and includes SEO and brand awareness. Writing quality and educational content on your blog will attract new readers and visitors who you can easily convert to customers
Check out this SEO guide for valuable steps you can incorporate into your SEO strategy.
And finally, getting attention is the most important part of online marketing.
Hook your readers interest by explaining what you're going to offer them after free viewing. Reserve other posts for paying readers only, presenting these articles as exclusive or premium content.
How do I add an RSS feed to my website?
We offer a built-in RSS feed which allows adding Article Feeds from different public news feeds like Euronews, CNN, The Guardian, etc. You'll find the RSS feeds on the news websites accordingly.
To embed the external blog to your website:
Add the link Articles → Feed tab and fetch the data.

Go to Articles → Draft section and select the one you want to publish.

Hit the Publish button to convey your Article to Published Section.

Wanna see other way round, continue reading.
Do I need a hosting for my blog?
No need to worry about hosting - we've got you covered.
Ucraft provides free cloud hosting by Google to all our users, with no hassle. Data stored on GCP is automatically encrypted at rest and distributed for availability and reliability. This helps guard against unauthorized access and service interruptions.
All you have to do is create a blog and ensure your online presence.
Check our free web hosting page for more info.
What technical skills do bloggers need?
Not really. That's the best part, you don't need an in-depth knowledge of coding, design or anything similar. The platform is easy-to-use even for the newbies: we got ready-made templates and article layouts and an advanced app to manage all your blog posts.
How do I enable comments on my blog?
Ucraft has an awesome integration with Disqus - a feature-rich commenting system allowing your site visitors to make comments globally.
To set up the blog comments system:
Create an account on

Disqus

Enter your websites name

Copy your short name

Paste it in Integrations Disqus tab.
It supports upvotes, downvotes, threaded replies, recommends, and more all happening in real time.
Get more insight here.
How can I become a good blogger?
A nice question! We'd recommend checking out the following resources to enhance your online presence with tactics and advice from Ucraft blog creator:
Knowledge Base for detailed step-by-step guides
Youtube channel to sharpen your skills
Blog for marketing advice
Community to get advice from different entrepreneurs
Live chat for real-time feedback and support
Join now the thousands of successful bloggers that chose Ucraft to create a blog, build a brand, or make money online!