Content marketing is focused on creating, publishing and promoting content to achieve specific business goals. It is based on creating valuable and relevant content for an intended target audience. In this content marketing guide, you will learn to do exactly that.
Today, content marketing is mainly used to create a specific bond between companies and their customers. Through content marketing, companies aim to build brand awareness and loyalty. It is their way of educating potential customers about their product or service and inform them about the benefits. Once customers get familiar with a product or service, it is easier for them to identify with the product and accept it.
There are three important phases of content marketing:
Each of these phases is based on valuable and relevant content. 
On average, companies spend 40% of total marketing budgets on content marketing.
Why is valuable and relevant content key?
Today, anyone can produce content. You simply need a pen or a keyboard and you are ready to start. However, great content cannot be produced by just anyone.
For example, many beauty bloggers write to express their views on new makeup and hair products. How valuable their content will be for you depends on the information you were searching for and the information they provided. The same goes for relevancy - if the title promised content about mascara and you end up reading about cars, will that be relevant for you? Of course not.
It is important to understand that only relevant and valuable content can help you to achieve a business goal. This kind of content can persuade a person to take a final action - e.g. make a purchase. Thus, writing to sell, without regard for meaning for the readers can have a drastic negative effect on your business goals.

Why should your business rely on content marketing?

One of the many reasons why businesses should use content marketing is the fact that it is often less expensive than other alternatives. Content marketing can also have a huge impact on other marketing channels.
For example, an article with great keyword strategy can improve search engine ranking. A relevant article can be easily shared through social media, which can also influence brand awareness. Likewise, a great article can improve reputation and customer trust.
The sooner you invest in quality content, the sooner you can reap the benefits.
Creating a content marketing strategy

A good online marketing strategy focuses its activities on content marketing. Marketers start with a goal, create a value-packed article based on this goal and distribute it through various online marketing channels.


Like any other strategy, content marketing should be based on planned activities in order to achieve business goals.
Consider the audience you want to target

Before you can start writing for your audience, it is very important to understand who they are. This means conducting in-depth research into their interests, behavior, basic information etc. The more you know about your audience, the easier it will be for you to understand what they are searching for. Then, you will know exactly what you need to offer them to convert them to your business.

Getting to know your audience is a process. To get the best results, marketers continuously follow their audience and pay close attention to their behaviors and habits. You can always start by using your previous knowledge (your previous and current customers), Google Analytics and continue doing research on your own.
Set goals for your content marketing campaigns

As soon as you have basic info about your audience, make sure you set clear goals you want to achieve with your content campaigns. Choose measurable goals you can easily track with Google Analytics or any other tool you plan to use.
When you are aware of your target audience and what you want to achieve, it will be much easier to create relevant and useful content for your readers.
Планируйте свой контент! Мы рекомендуем разработать дорожную карту, которая поможет последовательно воплощать в жизнь стратегию продвижения. Самый простой и доступный способ сделать это – составить электронную таблицу в Microsoft Excel, Google или Яндекс.Документах.
Сделав таблицу, заполните ее следующей информацией:
Тема, которую нужно осветить — это может быть начало распродажи, новинки в ассортименте, открытие нового магазина Вид контента – пост, письмо, описание товара, отзыв
Величина, в которой вы измерите результат – количество дочитываний текста, просмотров видео, лайки и комментарии, репосты
Цель, выраженная в
конкретной величине
Внесите в таблицу разные темы и виды контента. Сделайте план разнообразным, чтобы чередование материалов не приелось ни вам, ни читателям. Для начала рекомендуем распланировать на 2 недели вперед, затем – увеличить диапазон времени вплоть до месяца. Учитывайте, что план нужно будет корректировать с учетом актуальных событий, происходящих в мире.
СОВЕТ: помните, что под этим словом подразумеваются не только SEO-тексты для сайта и посты в социальных сетях, но и инфографика, вебинары, почтовые рассылки, руководства и объявления. Все письменные (и не только) источники информации, имеющие отношение к вашему бизнесу и есть контент. Даже отзывы переписка с клиентами.
When we talk about content, we usually refer to blog posts, eBooks, infographics, webinars and other valuable written sources of information, although blog articles and web content are usually seen as the content marketing basics.
At this point, you are already aware of your target audience, what you want to achieve and how to best format your content. Now is the perfect time to dive into the core of content planning - a clear road-map to put you strategy into action. 
The easiest and most affordable way to plan is to use a spreadsheet (either Microsoft or Google) and fill it out with the following information:
Topic that should
be covered
What you will measure as a proof of goal achievement
Approximate time when this kind of content should go online
Who will be in charge of writing, publishing and distributing
Additional help that will be needed (e.G. You will need a designer to create a visual presentation of your ebook)
Goal that should be achieved for
each topic
And finally, no matter which online marketing channel you choose, keep an eye on your competition. Go beyond copying what they do,

but present yourself as a unique opportunity for your leads and customers.
Writing like a pro (creating content)
After you've spent some time creating a powerful content marketing strategy, it is time to start writing content that will help you achieve your business goals. The content that will reap benefits for your business must be valuable, relevant, creative and engaging. This is the type of content that makes your readers move from passive leads to active customers.
Do research and choose a topic
Researching and choosing a topic are good starting points. What you will do first depends mainly on what you already have - if you have selected a topic you want to write about, then the research part will focus on the specifics. On the other hand, if you are still not sure what to write about, you can get inspired by researching your competition.
Google Trends and Google Keyword Planner are useful tools to plan topics you want to cover. Both of them can give a good insight into "hot topics". After you find your hot topic, you can build your whole content campaign strategy on it. Other useful tools include social networks, search engines and the news.
Title your content properly
In content marketing, everything starts with a catchy title. Let's say you are writing tips on how to make the perfect chocolate muffin. 
A potential reader visited Google to start their recipe search, so they might have typed "perfect chocolate muffin." What will make them click on your post and not on the other ones? That's right - the title.
Writing a catchy title should take into consideration various ways you can get someone's attention. Ideas include:
Be clear on what you want to talk about in your text (e.G. Organize your kitchen in 30 minutes or less)
Use numbers to give value to your content (7 ways you can save on Christmas decorations this year)
Go with "how-to" guides (how to write a winning business plan in a week)
Tell them a secret (top 5 secret moves to burn belly fat)
Who will be in charge of writing, publishing and distributing
Focus on the value of your words
Regardless of how good your title may be, if your content is not worth reading, you will very soon see a lot of clicks but no actions. 
Focus on your objectives and valuable experiences that can give a positive meaning to your content. Be clear, consistent and express thoughts in short sentences so that everyone can understand you, regardless of their level of English.
Start with creating a structure for your content. Each segment should have a headline and a goal you want to achieve by telling a story related to that segment. Also, express your personality. It will give a unique touch to your piece and, most importantly, bring value to what you are talking about.
Pay attention to your format and content organization. Follow this simple content strategy:
72% of marketers say content marketing increases engagement

You started creating content in order to get your readers to perform a specific action, and that action will be your content finish line.
A good way to finalize is to end with a question. Every answer you collect helps you learn more about the people who are reading your content. All the information gathered can be used to create other campaigns in the future. At the same time, asking a question will give you insights into what your potential customers are searching for, and based on that knowledge, you can adapt your product or service to suit their needs.
Colors have a big impact on the success of a CTA and when it comes to choosing the right one, you have to consider:
Psychology of color - blue is a cold color (usually used in b2b industry),
whereas red is warm
What different colors symbolize across cultures - e.g. in some cultures, white symbolizes purity and happiness, whereas in others it represents death and mourning
Studies show that red and green are the most popular colors. However, do not take this color suggestion as something that's set in stone. Instead, opt for A/B testing to find which color is the "action color" for your audience.
Overcoming writer's block
Even the best writers experience writer's block. When faced with "writer's block", the first thing you need to do is relax and take a break. Stop whatever you're doing and go for a walk, make a cup of coffee, play with your pet, watch a funny video, play an instrument, do yoga or perform any activity that does not involve writing. 
A lack of creativity and ideas can sometimes lead to writer's block. We simply get stuck not knowing what to do next. This is the moment when brainstorming should be your priority, especially if you can do so with other people. You start with a problem you want to solve and then dive into random thoughts or ideas.
Do not forget to check what your competitors are doing on social media, read news and industry insights, follow influencers on social media and check trends on Google Trends. All of these actions will be a helpful starting point.
Some of the reasons why you experience this phase are:
Rely on laziness as a solution to your problem
Refuse to work until you are inspired again
Blame yourself - some of the greatest writers face writer's block too!
The sooner you find what causes your writer's block, the easier it will be to overcome it.


A lack of creativity and ideas can sometimes lead to writer's block. We simply get stuck not knowing what to do next. This is the moment when brainstorming sessions should be your priority, especially if you can have them with different people (e.g. your team, friends or family members). You start with a problem you want to solve (or your goal) and then dive into random thoughts or ideas. Very soon you will have a bunch of different ideas you can use for creating your next campaign or for further research.
Do not forget to check what your competitors are doing (e.g. check their business page on Facebook), read news and industry insights, follow industry influencers on social media, check trends on Google Trends etc. All of these actions will give you a great starting point for your future ideas.

And finally, when writer's block hits, do not:
Constant distraction (e.G. Social networks are often our biggest distraction)

Optimization is of vital importance for search engines
Another element of content marketing basics is SEO optimizitation. When you hear "optimize your content", most of the time this means creating content to achieve better search rankings. To dig even deeper, it's important to target the right keywords your potential visitor uses to find the information you are writing about. 
First of all, let's learn two basic optimization terms:
Keywords are exactly what their name says - key words somebody uses to find the information they are looking for.

Search Engine Optimization (SEO) is content optimization for search engines, like Google or Yahoo! It helps search engines easily index your content, categorize it based on the information you are giving and serve it to those who are searching for that kind of information. 
Check out our SEO guide to gain a more in-depth understanding of search engine optimization and how to use it to benefit your website/business.
Now that we know the definition of SEO and what it is based on, we can continue optimizing our content to rank high in search results.
Factors that will impact your search engine ranking are the quality and popularity of your content. If you write something and pay to promote it, you may dominate the search results at the very beginning because of the "instant" popularity. This will tell Google that people are interested in what you have to say. However, if the average time spent on your page is very low, it will give a negative signal to search engines. You will achieve a top spot in a short period of time, but when it comes to budget and long-term goals, this is not going to bring you much success.
To make sure Google and your visitors know the value of your content, invest your time in producing quality content. Well-researched topics tend to have a few thousand words, which signals to Google that you have some expertise in the given topic. Of course, if you write or use the same word 2000 times, Google will know that. A search engine has special algorithms to recognize spam content and you will be punished for content that fits under this category.
Besides quality and relevant content, search engines appreciate fresh information. It gives them a signal that you are on top of your niche and that you want to keep your readers up-to-date. High rankings will be your reward, and you won't even have to spend any budget to accomplish this.
Keywords, keywords, keywords
If you have any previous experience with search engine optimization, then you probably know that keywords used to be the most important part of optimization. Nowadays, the situation has changed.


Due the algorithm alterations by Google, keywords no longer have the same power. If you do not have great content, there is no keyword that will help you achieve your goals nor rank well. In fact, Google punishes everyone who exploits keywords.


So, how can you handle keywords with the best intentions for your content? Use Google Keyword Planner to plan the best keywords for the topic you want to write about and then approach writing and using keywords as a regular part of your content. Use them when they are relevant to what you want to say and when they are needed. Do not forget to include your most important keyword in the topic title too!
Meta description is a very important element of content optimization. A short content description is shown when you search for a specific keyword (see the image below). The purpose of a meta description is to give a brief overview of the content they will read once they click on the link.
When writing a meta description that will be seen by potential visitors, there are a few things to keep in mind:
Your meta description shouldn't have more than 160 characters
It should contain your most important keywords (but beware of keyword stuffing - search engines will penalize you for that)
The description should give a clear overview of what visitors can expect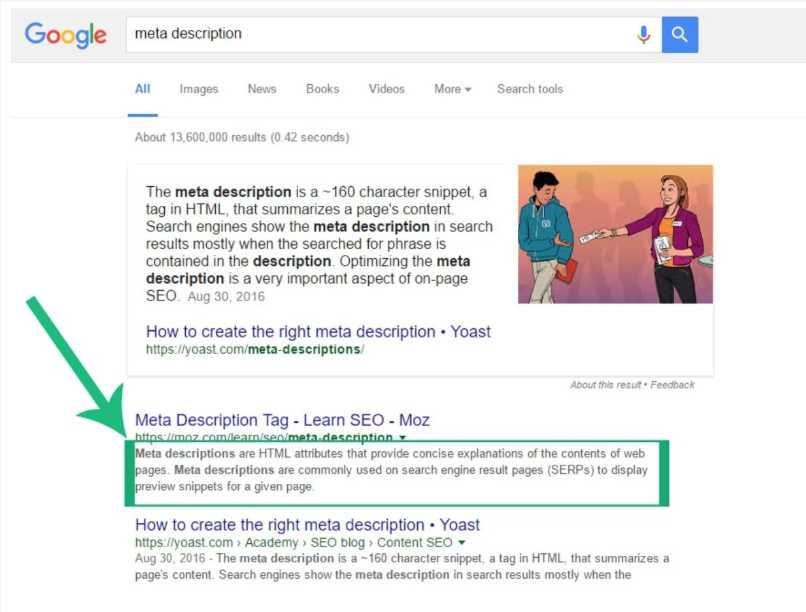 Promotion as a way of reaching your audience

Once you have written and optimized your content, focus on the readers. No matter how great your content is, if nobody is reading it, then it is a waste of time.
Content marketing is the foundation of online marketing. This means that content promotion depends mainly on your target audience and not on some specific channel.
Content promotion through an email channel

If you have decided to start promoting through email marketing, each campaign needs to be strategic. 


How can you handle content promotion through the email channel? Here is how we do it:
Plan a campaign based on the articles you write
Use the article title for your email title
Add in a snippet of your article, and then lead your visitors to your website
Pack some additional, relevant information too (e.g. "other topics you may be interested in:")
Include a call-to-action to encourage them to go from being a passive reader to an active client
Content promotion through social media

Social media platforms are other channels through you should promote your content. Again, which one you will depends mainly on your target audience. 
A few ideas on how to handle social media content promotion:
Plan your social media posts according to social media best practices
Include the most important keywords as hashtags, but ensure that these keywords are trending
Always mention people who you have written about by tagging them/their profiles
Create a buzz by posing a question alongside your content
Be polite and ask others to share, retweet or repost your content
Find the heart of your content - story you want to tell
If your content is valuable to readers, the likelihood that it is reshared will increase.
Finally, if your budget allows it, you can always spend money on paid promotion. 
Content promotion through social media
Social media is another channel you should promote your content. Again, which one you will choose depends mainly on your target audience. 

A few ideas on how to handle social media content promotion:
Content marketing success relies on other channels

Now that you know this, it's integral to understand what factors influenced the success of your content. Why? The answer is very simple - if social media scored the best results for your content, then you can put a lot of effort into this channel. Your experience gained through experimenting and testing is your most valuable asset that will influence any future campaign.
Measure content marketing success
There are measures you can rely on after you publish your content, for example, content views and content actions (contacts, comments etc.) 
All the data you need in order to determine if the content you wrote was a success or a failure can be collected by Google Analytics. Google Analytics provides all the necessary tools to track your content marketing campaigns - from the moment you publish your article to the moment you promote it. Remember to come back to this content marketing guide from time to time to make sure you stay on track.